© Igreja Baptista Bereana em Moçambique | Centro de Treinamento Baptista em Moçambique 2013









To The Work!

We have spent the last months visiting
supporting churches and new ones alike.
What a tremendous blessing that we
experienced in the churches. It was very
refreshing to see the excitement for missions
in general and the work in Africa specifically.
Not only did we present the work in 80
churches, but we also had the great
opportunity to speak before a High School
chapel and two college chapels. We are
praying that God will raise up a new
generation of missionaries not only for here
in Africa but around the world to carry the
Gospel of Christ to the whole world.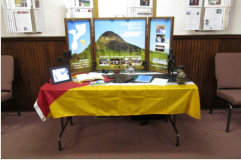 From the Cross, through
the Church, to the World
This is not a worn cliché but the motto of the
World Baptist Fellowship Mission Agency.
These are important words, not just a keen
motto.
They show us our mandate "the Cross" and
authority, "the local church" but also our
mission: the World.
Why not make this your motto also. For more
information: www.wbfi.net
Baptist Training Center in
Mozambique
Dondo, Sofala


Baptisms in three
congregations

Saturday Bible Institute
Classes

Father of Pastor Tomás
Chocane Passes away -
July 15, 2013